Kilcoy Kindergarten - Childcare and Nursery
Quality childcare and early education for your child.
The purpose of Kilcoy Kindergarten is to assist parents with a childcare provision, which they may use, to enable them to continue to pursue their employment, interests, hobbies etc, in the knowledge that the care, safety and development of their child is not compromised. In turn, it is an opportunity for the children to mix with their peers and develop relationships. The Kindergarten is located over two premises in Kilcoy approximately half way between Inverness and Dingwall in The Highlands of Scotland.
At Kilcoy Kindergarten we aim to provide security to all children and peace of mind to their parents. We support the children's development by ensuring a safe, stimulating and caring environment where they can play, grow and learn.
We undertake to deliver the highest standard of childcare and education, in a most secure environment and location. Through our balanced curriculum of learning with fun, each child is able to develop at their own individual pace, with the support and care of experienced and skilled staff.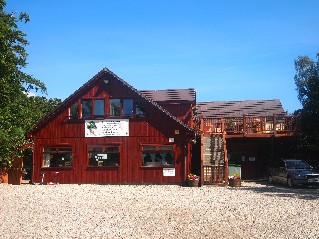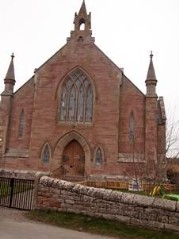 Staffing
Our full-time staff and part time staff are committed to providing the very best childcare for your child, under the direction and supervision of a competent and able manager. Staff praise and encourage the children, as appropriate, in order to ensure that they enjoy their early years at Kilcoy Kindergarten.
Security
Our Kindergarten has a door entry system, where the door is kept locked at all times and opened by a member of staff to let parents in.
Policies
Kilcoy Kindergarten follows strict Care Inspectorate guidelines when compiling our policies. All policies are regularly reviewed and updated by management. Our list of policies are displayed in the front foyer of each premises and on this web site.
Care Inspectorate Reports
Kilcoy Kindergarten's most recent Care Inspectorate reports can be downloaded via the following links:
Outdoor Play
We feel it is important that children spend a lot of time outside experiencing physical play. We have two outdoor decked areas where children can play under supervision in absolute safety. Different age groups are encouraged to play together with a wide range of outdoor toys and equipment. We also have our Forest Classroom and a large grassy area to run around.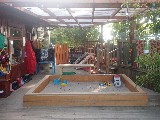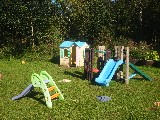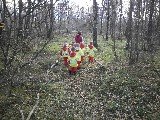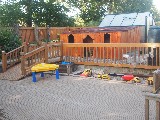 The Kindergarten
The Kindergarten has been developed especially for our 3 and 4 year olds. It is a bright lively environment where your child's social skills blossom with the help of our warm, friendly and qualified staff. The room has its own outdoor play area just off the main playroom allowing the children the choice of outside or inside play. We provide pre-school in partnership with the Highland Council. Here we follow the Curriculum for Excellence offering extended care for those parents and carers who work for more than 2.5 hours a day. The Kindergarten can accommodate up to thirty two 3 and 4 year olds with four full time members of staff.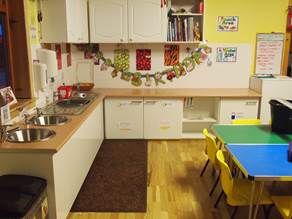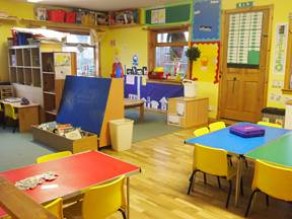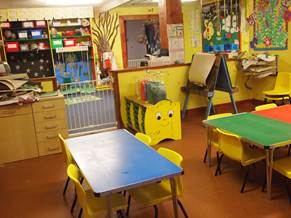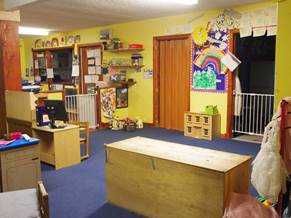 The Church
The church has been refurbished to a high standard and offers full and part time care to thirty children aged from 6 weeks to 3 years.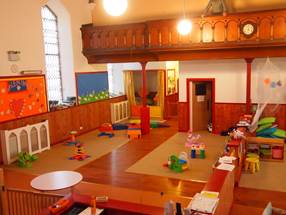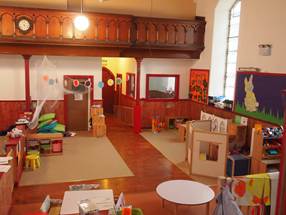 The Butterflies
One side offers our toddlers the space and opportunity for lots of energetic play. Three members of staff look after the fifteen children we accommodate in our toddler room.
The Caterpillar's Room
We have up to five full time members of staff in our baby room looking after up to fifteen babies aged from 6 weeks to 24 months old. We follow the Pre-Birth to Three Framework from the Scottish Executive. At Kilcoy Kindergarten we recognise each individual child's needs, with our baby room we endeavour to maintain parent's requests and routine. Our qualified staff not only ensure a warm, calming, home from home atmosphere, they also enhance all development by offering an appropriate curriculum for babies including treasure baskets, heuristic play and sensory areas.
Other Information
Continue to information on our settling in period or onto general details.
Kilcoy Kindergarten
Kilcoy
,
Muir of Ord
,
Ross-shire
,
Scotland
,
IV6 7SF
Tel:
01349 864804
Email:
info@kilcoykids.co.uk